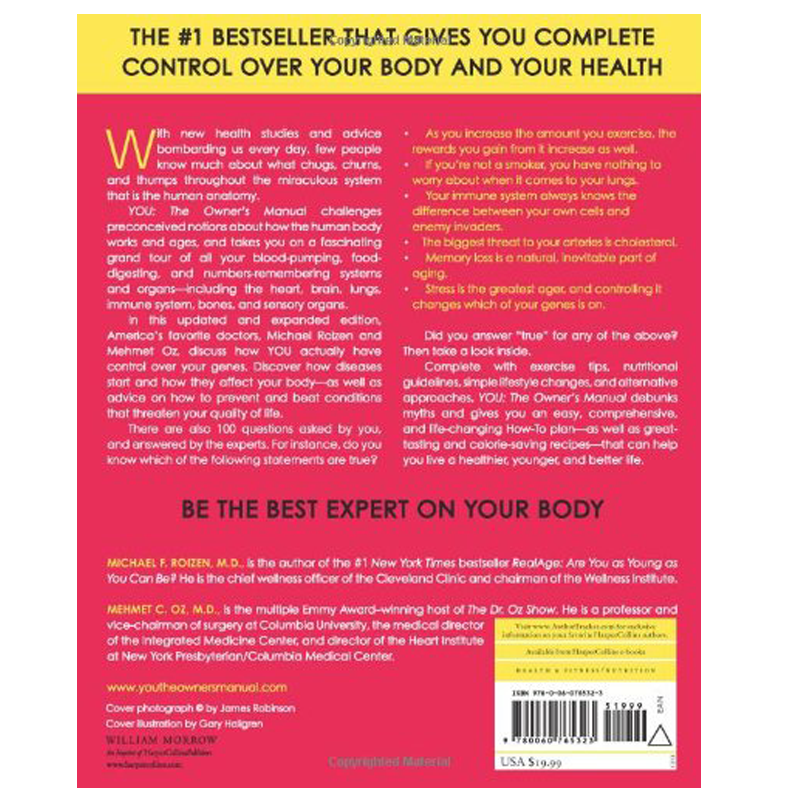 YOU: THE OWNER'S MANUAL
The #1 bestseller that gives YOU complete control over your body and your health.
With new health studies and advice bombarding us every day, few people know much about what chugs, churns, and thumps throughout the miraculous system that is the human anatomy.
YOU: The Owner's Manual challenges preconceived notions about how the human body works and ages, and takes you on a fascinating grand tour of all your blood-pumping, food-digesting, and numbers-remembering systems and organs—including the heart, brain, lungs, immune system, bones, and sensory organs. In this updated and expanded edition, America's favorite doctors, Michael Roizen and Mehmet Oz, discuss how YOU actually have control over your genes. Discover how diseases start and how they affect your body—as well as advice on how to prevent and beat conditions that threaten your quality of life. There are also 100 questions asked by you, and answered by the experts. For instance, do you know which of the following statements are true? As you increase the amount you exercise, the rewards you gain from it increase as well.
In stock
Free return shipping if we've sent you the wrong item or size or your product arrived damaged.
You have to pay for return shipping if you want to exchange your product for another size or the package is returned because it has not been picked up at the post office.
We currently do not offer exchanges. If you want to exchange for another size, color or style, please place a new order.